Girls Academy
Having diversity in role models is extremely important because it challenges outdated stereotypes about women in leadership.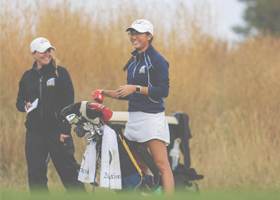 Additionally, if women are not visible in these positions it can lead to less favourable outcomes for girls and women. Their abilities and self-perceptions can be devalued. Having female coaches challenges stereotypes about gender and leadership and they will offer diverse perspectives, insight and advice to their athletes. This can open up avenues for girls to see themselves in roles such as a tournament player or even a coach.
Our Girls Academy is designed to give families the option of a female-led program in addition to collaborating with diverse and knowledgable experts in fitness and biomechanics.
BASICS | All Girls Welcome
This 4-week introductory program is open to any girl who wants to give golf a try. Our coaches will teach skills like putting, chipping and the full swing.
Cost: $160
Time: 1 hour group lesson for 4 weeks
Group Size: Max 12
Coaches: Keri Moffat and/or Esther Lee
Skill Level: Beginner - Intermediate
PLAY | Learn to Play - Ages 7-14 yrs
Our 8-week program is designed to help girls learn the necessary skills of playing golf. Our goal is to create a safe and engaging environment to help girls feel comfortable to get out with their friends and play golf on the golf course.
Cost: $320
Time: 1 hour for 8 weeks
Group Size: Max 8
Coaches: Keri Moffat and/or Esther Lee
Skill Level: Beginner - Intermediate
COMPETE | Learn to Compete - Ages 7+ yrs
Our season long program is created for girls who want to learn how to play and compete at golf. The focus of this program will be to help girls understand what is necessary to play at a higher level, from college golf and beyond. This program will include 20 private lessons, team practices, weekly golf, a biomechanics assessment, a TPI physical assessment and fitness program, tournament support at select events and a junior membership at Mayfair Lakes.
Cost: $6,000 ($1,000 up front, $625 monthly payment for 8 months)
Length: April - November
Group Size: Max 8
Coaches: Keri Moffat , Esther Lee, Jessica Wong, Ryan Holley
Skill Level: Intermediate
Includes:
Wednesday Night Play | 6:15PM tee times May 3rd to Aug 16
Friday Night Team Practice | April 14 to Aug 24, 4PM - 6PM
20 Private Lessons to be used by the end of the year
Junior Membership
Ryan Holley Biomechanics and Ground Force Assessment
Jessica Wong TPI Physical Assessment and Training Program
The Mayfair Lakes Girls Academy is led by an award-winning Coaching Team
Keri Moffat, Head Coach
Esther Lee, Assistant Coach
Jessica Wong, Physiotherapist
Ryan Holley, Ground Force Specialist
Our Awards & Accomplishments
(2) PGA of BC Awards for Teaching and Coaching
(4) NAIA Team Championship
(9) Golf Canada University Team Championships
(5) Golf Canada University Individual Champion
(1) NAIA Individual Champion
(2) UBC Team of the Year