Chris Karmal, PGA of Canada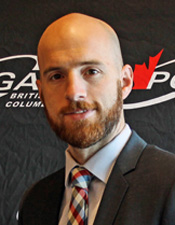 GBC Golf Academy Teaching Professional
Tel: (604) 276-0585
[email protected]
Chris Karmal is one of our most recent Academy Instructors.
While attending university in London, England, where he was born and raised, Chris sparked a passion for golf. After quickly becoming "addicted", he spent all his free time on the golf course or practicing his game.
From here, Chris moved to Ireland where he was able to play and visit some world class, links-style courses.
It wasn't until Chris moved to Vancouver, Canada in 2013 that he decided to make golf his career and entered the industry. After landing the job of Golf Shop Sales Associate at Mayfair Lakes, Chris dedicated his time to improving his golf game so he could eventually turn professional in April of 2016.
Since then, Chris specializes in teaching beginners and children and has a passion for growing the game.