Casey Svejkovsky
PGA of Canada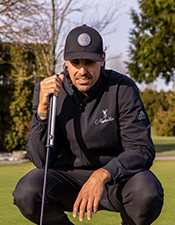 Apprentice Professional
Phone: (604) 276-0585
Email:
[email protected]
Casey started golfing at 9 years old when, after watching his grandpa play, he decided to pick up a club for the first time. He won his first junior tournament at 11 and has been hooked ever since. Casey's career low score is a 62 at Chateau Whistler Golf Club.
Casey has been with Mayfair Lakes Golf Teaching academy since 2020 and also works full time in the golf shop.
Casey has taken lessons and learned from some of the top pros in North America and in Europe to enable himself to compete at a high level. He also has a Bachelors in Psychology from UVIC and advanced diploma in Golf Management from Camosun. Casey was also a licensed personal trainer in 2017, giving him a high knowledge of the biomechanics of the body, how the body should move in the golf swing and identify limitations in golfers of any age.
He is able to pass all this knowledge down to his students by creating a fun environment on and off the golf course.