Esther Lee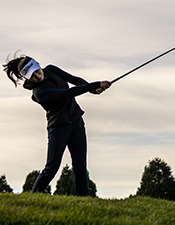 PGA of Canada
Apprentice Professional
Phone: (604) 276-0585
Email:
[email protected]
Social:
@estherleegolf
Esther's passion for golf started in her early years due to her grandfather, who was an avid golfer. After years of leisure golf, she officially began playing in the competitive field in 2014. For the next couple of years, Esther played in many Canadian and American tournaments, eventually signing with the UBC Varsity Golf Team in 2017.
During her years with the UBC Women's Golf team, Esther helped win multiple national titles, contributing to the team's legacy of being one of North America's most decorated sports teams. Also, in her first year she won Rookie of the Year for the Cascade Collegiate Conference as well as UBC Rookie of the Year.
Her time at UBC has motivated Esther to seek out coaching for a career. In doing so, she wishes to help golfers better their golf and mental game to overcome obstacles and better their golf game. As a coach, Esther also hopes to further players' love for the game by creating a positive and supportive environment where players can enjoy the wonders of the game. She hopes to inspire plavers as much as her coaches have inspired her throughout her years playing competitive golf.