Keri Moffat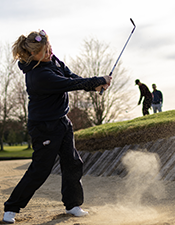 Director of Instruction Mayfair Lakes Golf Club
PGA of Canada
Class A Professional
Phone: (604) 276-0585
Email:
[email protected]
2023 Cascade Collegiate Conference Coach of the Year
2019 PGA of BC Coach of the Year Regional Award
2011 PGA of BC Teach of the Year
Keri's road to coaching began when she transitioned from a gymnast into coaching the competitive team at her local club. Those years instilled a love for coaching that crossed over to golf. She taught her first lesson days after she turned professional and was immediately hooked.
Her first full-time role in teaching was at Westwood Plateau Golf Academy. Following that, she was hired as the Director of Instruction at Mayfair Lakes Golf & Country Club where her team created a successful Academy.
In addition to running the Mayfair Lakes Golf Academy, she was hired by British Columbia Golf to work with the provincial team where she ran provincial training camps and coached Team BC at several Canadian Junior Girls' Championships and BC Summer Games. And this past summer, Keri was selected to coach Team Canada at the FISU University Golf Championships in Turin, Italy.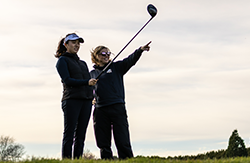 For the past 12 years she have been the Assistant Coach for the UBC Women's Golf Team. During the 2021/22 season the team dominated the NAIA rankings, winning a NAIA record-breaking 12 of 12 tournaments, including the NAIA National Championship and Golf Canada's College/University Championship. On top of the team success that year, nine players won individual tournament titles.
She shares her successes in coaching with the amazing people she has met along her journey. She's had the privilege of working alongside some of the best coaches in Canada. She believes in order to be great you need to surround yourself with great people.
Keri has won the 2023 Cascade Collegiate Conference Coach of the Year, the 2019 Lower Mainland Regional PGA of BC Coach of the Year Award and was the 2011 PGA of BC Teacher of the Year.