Keri Moffat, PGA of Canada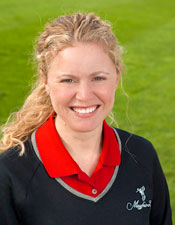 Director of Instruction
GBC Golf Academy Teaching Professional
Tel: (604) 276-0585
[email protected]
Recipient of the 2019 PGA of BC Coach of the Year Regional Award and the 2011 PGA of BC Teach of the Year
Bio
Keri's start in golf began at a young age under the encouragement and instruction from her grandfather and father, both members of the PGA of Canada. After a successful junior career in Southern Ontario, she went on to receive an Honours Degree in Environment and Resource Management at the University of Western Ontario as well as a Professional Golf Management Certificate at Humber College in Toronto. Keri achieved her PGA of Canada Class A status in 2004 and became one of only a few father/daughter Class A golf professionals in Canada.
During the past 15 years as a teacher, coach and Direction of Instruction, Keri has been passionate about advancing the game through quality instruction and has dedicated much of her professional career to creating innovative programs for all levels of golfers. She has become known for her patient manner and ability to adjust her teaching style to fit the individual needs of each student. Keri's teaching philosophy is centered around the importance of the swing fundamentals as well as designing lesson plans based on attainable goal setting.
Keri is currently the assistant coach for the UBC Women's Golf team and has coached for the British Columbia Golf, and the BC Summer Games.
A Few Questions with Keri Moffat
Why do you love to golf?
The golf course is the one place in my life where everything else melts away and I can focus on one thing. I love the feeling of endless possibilities and that no matter how long you have played this game you can always learn something new.
What is your favorite place to travel?
I'm still an Ontario girl at heart so I am always drawn to eastern Canada. They have some of the most beautiful golf courses and it will always feel like home. However, since living on the west coast I have fallen in love with Oregon. The rugged seascapes, the sand dunes, the golf; it's a gorgeous place to visit.
What hobbies do you have other than golf?
I have recently discovered a love for photography. I am drawn to the challenge of creating a picture that represents my viewpoint. There is an enormous learning curve when it comes to understanding the basics of great photos and I love that feeling of endless improvement. I guess it reminds me of golf in a way.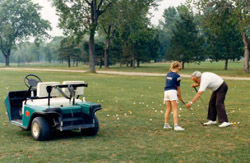 What is your biggest accomplishment?
Winning PGA of BC Teacher Of The Year. It was a great feeling knowing that all my efforts had been recognized by my peers.
The award was also an unforgettable moment in my life as I found out about my nomination in time to tell my father before his passing.
He was my biggest fan and my mentor and to be able to share that with him will stay in my heart forever.
What would you do if you didn't teach golf?
I really don't know. It's all I have ever known and the only thing I have ever loved to do. I stepped away from golf for four years in my early 20s and then realized that I missed the industry, the people; I missed golf. I started teaching 15 years ago and have never looked back.