Taylor Chen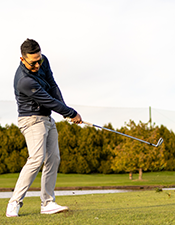 PGA of Canada, PGA of Taiwan
Class A Professional
Phone: (604) 276-0585
Taylor was born in Taipei, Taiwan, where his passion for golf began. He started golfing when he was 8 and learned techniques from his uncle, who was also a Golf Professional. Taylor became a PGA of Canada member in 2004, followed by becoming a PGA of Taiwan member in 2012. During his professional career, Taylor played several mini-tours in Canada, Taiwan, China, Malaysia, Thailand, Korea.
Taylor has pursued a career in teaching golf for more than 17 years. Some of his certifications include the TPI, Trackman, Boditrak, Sam Puttlab and Superspeed Golf
With thousands of hours of experience between teaching and tournament play, Taylor has carefully-tailored methods to dissect the golf swings of students. With Taylor, you will become an advanced player from a total beginner, improving with each lesson you take.
His motto is: "My best achievement in life is to help my students to reach their goals in golf."